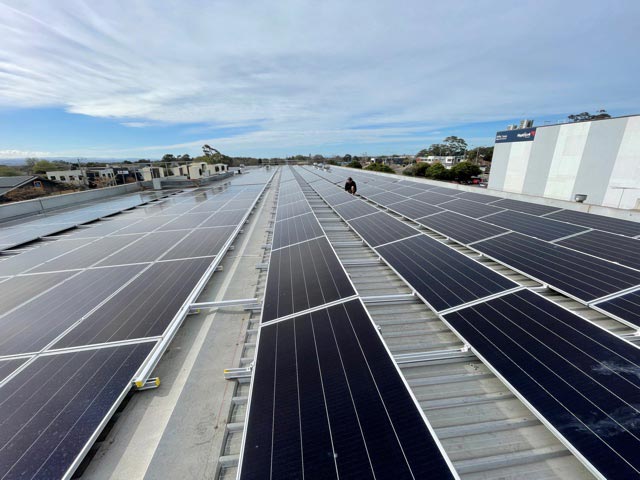 Making Australia a better place one solar installation at a time. Renewable Energy Australia is a leading solar company with a proven track record of installing high-quality, efficient solar systems. We have extensive experience designing and installing commercial solar system solutions. Whatever your solar energy needs, we deliver a solar solution that works for your business.
Discover how your business can benefit from solar power today!
Three distinct sizes for non-residential solar installations:
Small: less than 30 kW for shops and small manufacturing companies
Medium: 30-100 kW for large retail stores or warehouses
Large: 100+ kW for large-scale solar systems (shopping malls) or solar farms
Installing solar with Renewable Energy Australia brings many benefits for cafes, hotels, shopping centres and large-scale solar projects. The savings on day one are significant, but customers continue saving months after installation, as they benefit from using green energy.
Because of the higher expected production per installed kilowatt, commercial solar often has a lower cost per watt or kilowatt-hour of electricity generated.
Deciding to get solar installed is a smart move! As solar panels last around twenty years, you can add capacity to your system as your business grows to benefit even more from solar energy.
Custom design & installation
We design and install each photovoltaic system (PV system) using high-performance solar modules that generate more energy per square meter than comparable residential rooftop installations.
Commercial installations need batteries capable of longer energy storage times and higher discharge rates. We partner with EVO Power to provide scalable solar battery storage solutions for commercial applications. Our battery storage systems store excess energy from renewable sources such as solar until needed. This provides commercial battery backup storage for businesses allowing power in the event of a blackout, eliminating peak demand charges which can save thousands of dollars per year.
How much energy storage do you need? Our commercial battery storage solutions range from 100 kW / 250 kWh to 5MW / 20 MWh for commercial and industrial applications.
With our turnkey battery storage solution for large-scale solar installations, you get intelligent power control software to optimize system performance and give you complete control of energy consumption and storage.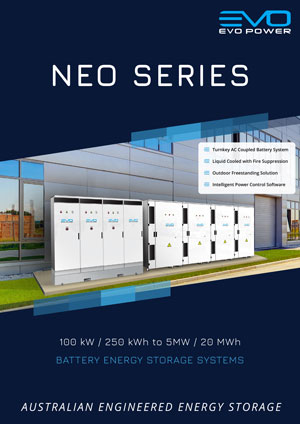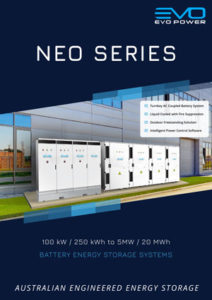 Consultation & feasibility study
Cost-benefit analysis: payback time, potential savings, improved cash flow
Designed to meet sustainability targets
Finance: a range of financing options to suit all needs
10-year guarantee
Do solar panels make sense for my business?
That's a great question, and the answer depends on how much electricity you consume. While solar panels may not make sense for every business, they do in many situations.
When does it make sense to use a solar system in my business? The following are all ideal for solar panels:
Shops, restaurants or other commercial buildings with flat roof space
A commercial building that has average to high electricity consumption during daytime hours
Many office spaces can make significant savings with solar systems
Commercial-grade solar systems make sense because many business owners pay high electricity rates or have unpredictable energy costs.
A solar power system helps by saving on electricity costs over time by using lower-cost solar electricity produced by commercial solar installations. Businesses can also benefit from STCs (small scale technology certificates) and Solar Rebates for Business.
Installing a solar system can save business owners money. Businesses that use solar power have seen savings of over 20% on their electricity bills. And commercial-grade solar panels help reduce electricity costs even more.
Discover how companies across the country are slashing electricity prices and planning a sustainable future as part of their corporate social responsibility through commercial solar power.
Get your no-obligation consultation from our commercial team. We can even help you finance your solar system!
products we install include: